"An entrepreneur is a person who knows he can fail, but he does not accept to fail before he actually fails, and when he fails he learns from his errors and moves on."
Entrepreneurship Unit of the College seeks to provide students with the knowledge, skills and motivation, which encourages entrepreneurial success in a variety of setting. It has the mandate to equip the students with functional knowledge and skills to build up their character, attitude, mission and vision that would enable individual:
To be self-reliance and economically independent
To collaborate with Government agencies NGOs and provide sectors to provide capacity building, training and workshop for the felt-needs organization and agencies.
Entrepreneurship and skills Acquisition Center of the College provides the following skills, with adequate facilities, tools. The Tailoring Centre
Barbing Saloon
Hair Dressing Saloon
Carpentry
Welding
Building/Block Industry
Poultry producing. Sheep, Goat and Cattle rearing
The equipment, machineries and instruments in the Unit can compete with any standard College of Education in Nigeria.
Objective Statement
To develop skills and knowledge that enable an individual to realize available opportunities.
To teach and train students how to start a new business/trade from the beginning.
To teach students to thinks outside the box and nurtures unconventional talent and skill.
To ensure social justice, instills confidence and stimulates the economy through self-employment.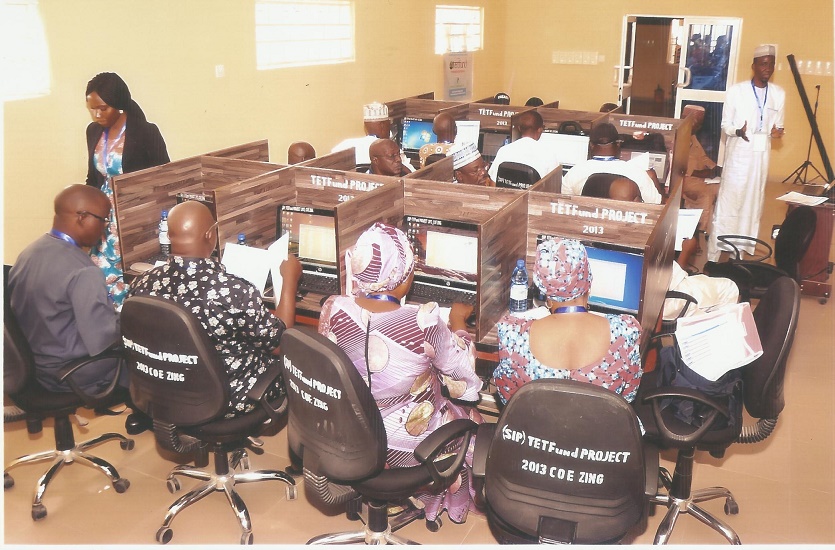 The mission statement reflects on, to create an interdisciplinary environment that the help students to become better connected once they leave the College and prepare them for long terms success in their various skills and occupational choice.
The vision statement reflects on self-motivation, passion in the skills, basic money management networking and ability to evaluate and develop successful business framework.
Staff
All the mentioned Centres have Professional staff, which are engaged in providing knowledge and skills training,
Offices
Entrepreneurship Centre has a befitting office accommodation for its staff with adequate office facilities with the Directors as the head of the Center.
College of Education, Zing establishes several units that includes; Internet Café, Multi-Media Centre, E-Library, Management Information Centre (MIS) and Computer Based Test Examination (CBTE) centre in order to become compliance with the emerging trend of Information and Communication Technology in educational carrier of tertiary institutions in Nigeria. The management of the College came up with Information Communication Technology Center (ICT) as a directorate and appointed Director to harmonized the activities of all the units for efficiency and productivity.